Custom Order Turnaround
Turnaround time for custom orders is on average 10-15 business days (not including shipping) but can be as long as four weeks.
Are you 2Fly?
How cool would it be to have your face (as a drawing) on a luggage cover? Or to have the special child in your life as a cartoon on their backpack? We can make that happen!
We also have our signature characters for those who may not want an item as personalized!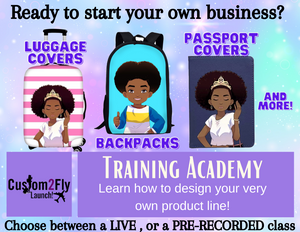 LAUNCH! Academy Training
Now offering courses to Launch! your own business! Learn how to design and market your own product line!
Shop Now